John Douillard's LifeSpa Organics – Regenerate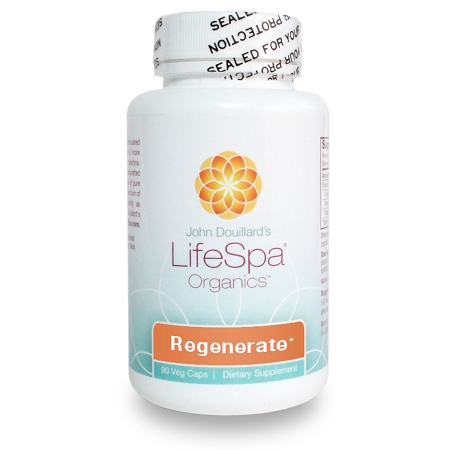 John Douillard's LifeSpa Organics
John Douillard's LifeSpa Organics - Regenerate formula is an excellent product, but the product is in extract/capsule form, as opposed to the pure resin form.
Company's Customer Service
9
Add your review
|
Read reviews and comments
Visit the LifeSpa Website
Visit the LifeSpa website so you can inquire about or purchase this product.
It is difficult to ignore the benefits of taking pure Shilajit. This magic herb can help improve your stamina and work extremely well to give you the energy you need for your day-to-day tasks. The only catch is to find the best quality Shilajit. We have reviewed so many brands in the past, and not many of them could fulfill the promise they made. It seems Regenerate from LifeSpa is a different product because it enjoys positive reviews and has a number of things going in its favor.
The best thing about this product is that it comes from LifeSpa, a company that fulfills its promise of delivering pure products only. All their supplements and herbal formulas meet NSF GMP quality standards. Most of their herbal formulas and oils contain 98% organic ingredients. The same high quality is evident in Regenerate.
One good thing is that though it is available in the form of capsules, it doesn't use any fillers or preservatives. The label shows that the product doesn't contain corn, gluten, yeast, milk, animal products, or soy. It is safe for vegetarians. You simply need to take a capsule thrice a day after your main meals to gain interesting benefits. One of the active ingredients found in Shilajit is fulvic acid, which is also there in Regenerate and is a reason why you will experience so many benefits. The regular use of Regenerate may help suppress unwanted inflammation and augment hormonal systems. This will also help stimulate energy production in your body.
---
The Good
---
It comes in a handy container with 90 servings
It maintains a proprietary blend of 300mg
It contains Shilajit extract with no fillers
It is not that expensive
It enjoys several positive reviews from users
---
The Bad
---
There is no real negative associated with this product, but something we're not entirely happy about is that they don't sell in resin form, which is probably the purest form. If they are offering it in capsules, it means they are using Shilajit extract (which is both good and bad in many ways). They say they use other ingredients like ashwagandha root and organic amla to make it more potent, but you may miss the real benefits associated with pure Shilajit.
The Bottom Line
---
The fact of the matter is that Regenerate is a good product for anyone who is looking for a Shilajit product without having to spend a lot of money. They rely on using Shilajit extract, so it would have been nice had they published a lab report or something. Still, we cannot write them off completely because they enjoy positive reviews and many people have vouched for their quality. Also, the company has mentioned in many instances that they use specific techniques and processes to turn Shilajit that's originally a resin into Shilajit extract. They claim that the process doesn't affect the 'active constituents', and it seems to be the case considering so many positive feedbacks they have received from their customers.