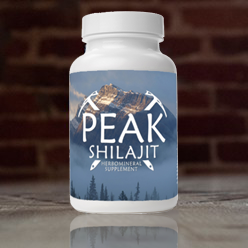 Peak Shilajit
Peak Shilajit is a wonderful, cost-effective product, but it suffers because it is not shilajit in its purest form of resin.
Company's Customer Service
7.5
Add your review
|
Read reviews and comments
Visit Peak Shilajit's Website
Visit the Peak Shilajit website so you can inquire about or purchase this product.
Peak Shilajit is a good choice considering it makes use of the best quality Himalayan Shilajit. Something that goes in the favor of this company is that they only make Shilajit and have their focus fixed on making this product better. They say they make use of pure Shilajit and then turn it into Shilajit capsules. The biggest benefit of taking Shilajit in capsules is that you don't have to deal with its harsh taste and odor. On the other hand, we don't usually like Shilajit capsules because it usually means the company has tinkered with the pure Shilajit to make capsules. This usually makes it less effective.
The thing is that even if you don't use Peak Shilajit for its Shilajit content, you may still consider using one considering the other ingredients it has available. It actually offers a combination of Himalayan Shilajit and Ashwagandha to make these capsules a lot more effective in improving sexual health, enhancing detoxification, supporting immune system, and boost high altitude performance. Swallowing these capsules is a lot easier than using solid resin, measuring sticky bar, or even scooping powders. You will get 60 capsules in one bottle and each capsule will be of 650mg with 200mg of Aswagandha and 450mg of Himalayan Shilajit. The combination works fine because many people have said nice things about it.
---
The Good
---
It comes in capsule form and is easy to swallow
It saves you from dealing with strong taste and odor
It contains 450mg of Shilajit for good effects
It is easy to administer as compared to powders and tar
It is extremely cost-effective as compared to other products
It enjoys several positive reviews from consumers
---
The Bad
---
Again, the only negative point is that you get it in a capsule form, which may affect its ability to produce positive effects. Though the company says it contains 450mg of Shilajit with no preservatives, they haven't published a lab report yet. They have promised to publish one soon though. Some consumers have raised questions about the quality of customer support, but it's nothing serious.
The Bottom Line
---
Himalayan Shilajit works quite well if you're taking it in the right amount, and it seems that Peak Shilajit has the right amount of it because consumers are quite satisfied with the results they have seen after a few weeks of use. The bottle contains 60 capsules and you need to take a couple of capsules per day. It means the supply will last you for a month, and you pay just under $30 for a month long supply. It makes it a quite cost-effective option, as compared to many other Shilajit products with fewer capsules per bottle. They seem to have discovered the right synergistic combination of Ahswagandha and Shilajit to produce great health benefits. Overall, it's an effective product, but it will be more convincing once they have published lab tests on their website.